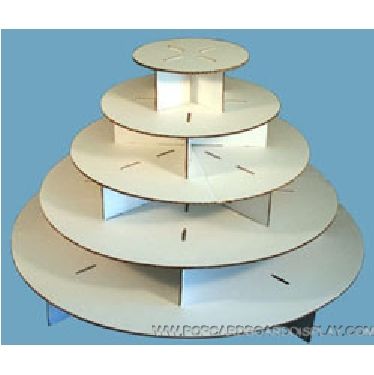 Products Advantage:
reference number:CS-39
100% recyclable, environment friendly
Professional design and delicate quality
Used in supermarket, Eye-catching advertisement for products promotion
Reasonable price and excellent service
Innovative & Economical
Customized Color and Designs are Welcome
ODM/OEM Orders are Welcome
Easy-assembling
Products Specifications:
We can customize a cake cardboard stand any style, size and color according to your requirements. Cardboard cake stand is flexible, creative, strong, affordable and recyclable. The perfect cake and cake.
1) the size, style, color and structure can be customized.
2) for any type of occasion.
3) 4-color (CYMK) or Panton design color printing bright colors.
4) Material - recycled cardboard, white paper, corrugated paper, etc.
5) stamping, silver / gold stamping, water-based paint, etc.
6) MOQ - MOQ is displayed as 100 units, we also accept small orders.
7) Distribution - Proofing time: 3-5 days;
mass production: 7-20 days / 100-1000 sets. 8) transport: maritime transport, air transport, courier. www.cupcakestandshow.com · A certificate, European and North American markets, such as SGS, ISO9001, ROHS certification.
· Suitable for display or in the supermarket or bakery display or use at weddings and birthday parties. OEM, ODM orders, a variety of cakes display,
cardboard cake display
, cake display at a wedding or party, or bakery,
PDQ display car
dboard,
cardboard counter display
s,
corrugated paper display
rack, floor display, display cabinets and cardboard PDQ, trapezoidal display, such as sunglasses display, display food, cosmetics display, sunscreen display, mobile display stand, clothing exhibition, exhibition of electronic products, decorative display stand, chocolate display, which uses a toy exhibition display racks, trade exhibition, super market.
This four-story cake / bread alternate holds 5 1/2 dozen standard cake layer Size is: "cake topper layer, 10" layer 8 (layer 2), 12 "layer (layer 3), and 14" layer there are four rolling sensation (bulk).
The three largest diamond layer using the scroll feet, so you can use all four levels of the maximum capacity of the stand, or the first three levels, if you only need a capacity of 3 dozen cupcakes, or even just the top two ʱ?? The edge of each layer has a small step 1/4 "roundover profile down, or order straight edge, if you want to add as a colorful ribbon edge, each layer.
Estimated capacity of each cake: "layer cake 12 18" 14 30 cake layer, 12 pairs of cake 10 "layer cake 6 8" layer (using standard cake liner and 2 "diameter base and two 1 / 4 "in diameter at the top).
From the height of the layer, top of the table as follows: 2 1/4 ", 7 1/2", 12 3/4 ", and 18." The overall position height of 20 1/2 "Installing a removable top. Height between the layers is 4 1/2."
Products Specifications:[pubdate:2015-08-03 16:12]
Writer:
cardboard display